BOOM! Abdur-Rahim Adds Local Commitment!
As expected, Kennesaw State has gotten a commitment from Armani Harris (2019) of Newton HS / Atlanta Celtics. He is Amir Abdur-Rahim's first commitment as  a KSU Coach. 
As a senior Armani Harris made SandysSpiel.com AAAAAAA Honorable Mention and SandysSpiel.com Region 8 First Team
Q&A with Gabriel Stovall of Covnews.com (3/24/19): Harris tells Stovall his timeline for choosing is mid-April to the end of April.
Tai Young, Hoopseen.com (1/12/2019): "One of the better forwards that slipped through the cracks of the early signing period, Armani Harris checks off several boxes that division one programs aim for. A 41 point showing at the North Georgia showcase is something that wasn't unforeseen for those that have watched his progress closely. Last year, he was best suited as your classic roll man finisher that could put away everything Ashton Hagans fired his way. While thats still his bread and butter, a glimpse at his film will show a soft touch, nimble feet and the ability to stretch the court. An intriguing skill set coupled with a second to none motor gives him the tools necessary to be a contributor in a programs backline rotation."
Tai Young, Hoopseen.com (9/12/2018): "Newton forward Armani Harris will be asked to carry a bigger load this season as Kentucky commit Ashton Hagans is no longer around to make life easy. Harris seems up to the challenge as he had himself a solid travel season with a talented Atlanta Celtics squad. His athleticism and non-stop motor keep him in the mix with rebounds even against matchups were he's giving up an inch or two. Although his calling card is the energy he brings to the game, his offensive skill set should translate nicely to the next level. It's not far off to see Harris affect score from all 3 levels as he has a range to the 3 that he doesn't often get a chance to display. During his junior season, it was not out of the ordinary to see Harris attempt to dunk every dump off he received. Even if he has to change his approach to finishing at the next level, that mentality should bode well going forward. Harris may take some lumps early as he will be leaned on to shoulder more responsibility this year but it will pay off dividends going into his collegiate career. Presbyterian and Clayton state have offered the big man while several other Division 1 and 2 programs have stayed involved."
Tai Young, Hoopseen.com (4/11/2018): What will jump out instantly about the Newton prospect is his nonstop motor and relentlessness for rebounds. The 6'6 forward has the capability to finish anything at the rim, both around and through defenders. What can sometimes go unnoticed is his ability to stretch the court due to his knack for cleaning the offensive glass. "Ive been working on my ball handling and 3 point shooting to become a more versatile player. I want my jumper from 3 to be consistent. My goal is to become one of the best forwards in Georgia."
Armani Harris | 6'7″ | ??? | PF | Newton HS/Atlanta Celtics (Covington, GA)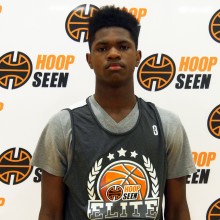 Offers: Kennesaw St., Maryland-Eastern Shore, Stetson, Loyola-Maryland, Clayton St., Presbyterian, Limestone College
Verbal Commits
BigShots.net #49 in Georgia
GeorgiaHoops.com #82 in Georgia
HoopSeen.com (Unranked in Georgia)
Highlights
K E N N E S A W S T A T E! 🤩 #Committed 100% pic.twitter.com/IsHLtp6g3s

— Armani "G-Melo" Harris (@_armaniharris) April 29, 2019