Owls Offer Forward from Pebblebrook!
Kennesaw State Basketball has offered Pebblebrook forward Jamall Clyce (2021). 
Prephoops.com (01/26/2019): Pebblebrook 6-foot-5 sophomore Jamall Clyce is already fielding some Division I interest, and could become a breakout player in 2019.
A forward who's working to develop his guard skill-set, Clyce is and adept shooter from 15-feet and in, and keeps his focus on the defensive side of the ball.
"As a player my strengths are the mid-range game, and I try to focus on defense, especially if my shot is not falling. I like to keep the energy up so we can have the momentum on our side most of the game," said Clyce.
Jamall Clyce | 6'6″ | F | Pebblebrook HS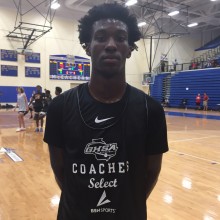 Offers: Kennesaw St., Georgia St., Winthrop, James Madison, UAB
HoopSeen (#18)
blessed to receive an offer from Kennesaw State University #GoOwls 🦉 @gewj2391 @BigTre42 pic.twitter.com/IGMh4vHb1F

— Jamall Clyce 😈 (@JClyce_20) August 17, 2019
18pts, 10reb for Jamall Clyce in @TheEC16 Championship game. Key part of a productive Pebblebrook unit down in Niceville – such a versatile threat off the dribble, inside & in the midrange at 6'6"@JClyce_20 @gewj2391 @PlayForOrange @GAHoopCircle @JHillsman#EC16 #SUVtv #ABACE pic.twitter.com/4TYcLTWseo

— SUVtv (@SUVtv) December 24, 2018
2021 Georgia Summer Awards
Best Floor General- Sutton Smith

Best Scorer- AJ White

Best Rebounder- Ian Schieffelin

Best Defender- Myles Rice/Najhae Colon

Mid-Range Assassin- Jamall Clycehttps://t.co/ELNpvAz32D pic.twitter.com/B8VCe06TCU

— Trent Markwith (@TMarkwith14) August 10, 2019