AAR Offers First Cobb County Prospect!
Kennesaw State Basketball has offered Allatoona HS F Terrell Ard Jr. (2019)!
HoopSeen (10/25/18): Overall, Ard had a really good day at the Fall Preview. He was one of the best seniors in the camp. He can play minutes at both the four and the three. Ard is a skilled passer from the three-point line and from the post. He plays above the rim when he wants to and could be considered a sneaky athlete. He'll only use his good bounce when he absolutely needs to. Ard has a great frame and plays with a high motor. His camp coach said he "can be a dominant force".
OTRHoops (10/09/2018): "Strengths – Ard exudes confidence as an explosive athlete who can do an array of things on the court. At the Super 64 camp he showed his face-up skill. He used his strength and downhill slashing ability to get to the rim to finish. His 6-foot-7 frame is ideal for a next level wing-forward. He has the defensive acumen and timing to alter shots around the rim.  He is equally capable of snatching shots off the rim to start the break. In previous camps we have seen him be a big time shot blocker and rebounder. The fact that he has shown growth in his offensive abilities points to greater things this season at Allatoona.
Areas of Improvement – Ard is capable of shooting the trail 3-point shot in transition or even hitting the reversal jumper from the corner. However, this will be an area where he will want to show consistency. If he can make defenders honor him out beyond the arc on a regular basis, it will open up the rest of his game for a greater impact.
PrepHoops.com (09/25/2018): "Ard was one of the more physically imposing prospects at Top 250 Expo, and used that to score the basketball at will at the rim. Whether in transition or the half court, it always seemed as if Ard was coming away with some type of basket from 3 feet and closer, sometimes with defenders corralling him on the way there. The forward from Allatoona excels at controlling his body at the rim but his shot making ability can't go unnoticed as he was a steady shooter afternoon especially off the catch. Ard can flat out score the basketball and was consistent in doing so in both of his games."
Terrell Ard Jr. | 6'7″ | 210 | F | Allatoona HS (Acworth, GA)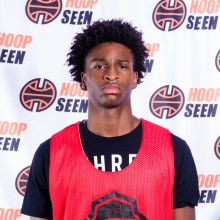 Offers: Kennesaw St., Presbyterian, Tampa
Georgia Hoops (#92)
Verbal Commits
BigShots (Unranked)
HoopSeen (Unranked)
Highlights
Blessed to Receive an Offer from Kennesaw State University pic.twitter.com/p7Pvbsk0Nk

— Terrell Ard Jr (@Its_REL) April 27, 2019